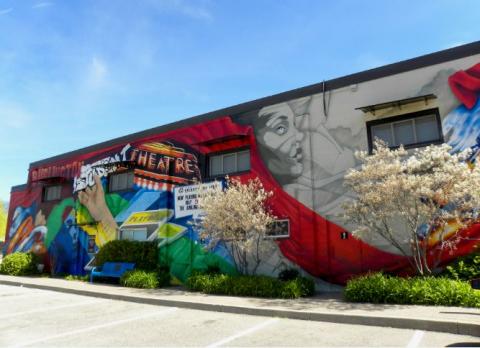 2131 Prospect Street
Burlington, Ontario
Canada
L7R 1Z2
905 335 7600 ext. 7352
Setting the Scene
Setting the Scene, 2019
Jimmy Baptiste and Hans "HAKS180" Schmitter (Quebec)
Mixed Media Mural
Setting the Scene was created in collaboration with the City of Burlington's Public Art Program, Student Theatre and local youth. Youth were involved in all aspects of the mural's creation including, artist selection, contributing ideas to the artwork theme and painting the mural itself.
In this mural, the artists used a collage design to represent the theatre arts, while staying true to their graffiti roots. The large red theatrical curtain wraps the "stage" which contains elements and colours that express the drama of the theatre. The artists also used the Student Theatre's own archive of playbills, tickets and news clippings to represent its rich history of bringing the arts to Burlington's youth.
For more information about the City of Burlington's Public Art Program, visit burlingtonpublicart.com.
Business Information
Business Type: N/A
Request ownership of this listing