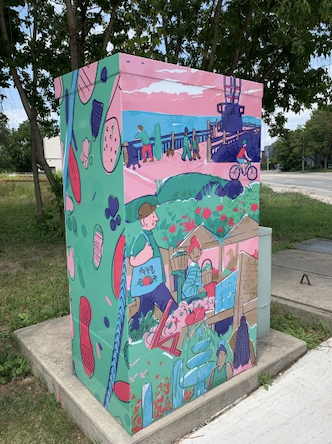 Brant Street and Ghent Avenue
Burlington, Ontario
Canada

906 335 7600 ext. 7352
All Walks
All Walks
Clover Akuoko-Dabankah, 2015
Vinyl Mural
I moved to Burlington a few years ago and when in a new city, I often like to walk around and explore new places. What endeared me was the diversity: the diversity in the land, the people, and the things to do. It's been a joy to walk around and explore, and I've observed people from all walks of life doing the same in a place they feel safe and at home in. I wanted to capture the joy of 'getting up and going' through my artwork.
As part of the Local Artist Program, the Burlington Public Art Program has commissioned local artists to create a variety of small to medium scale artworks throughout the community. The City has installed the designs of 12 local artists on traffic control signal boxes throughout the city. Artists were encouraged to submit artwork that focused on inspiring and uplifting the community during these challenging times. This artwork forms an urban art gallery that can be experienced by residents while still practicing appropriate social distancing.
For more information about the City of Burlington's Public Art program, visit Burlington.ca/publicart.
Business Information
Business Type: Individual
Request ownership of this listing