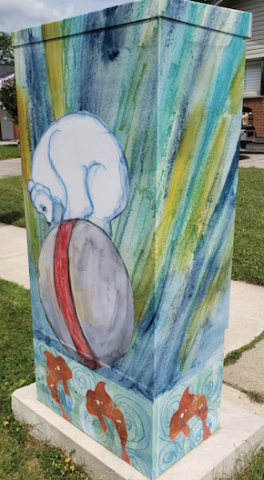 Pinedale Avenue & Bridle Wood
Burlington, Ontario
Canada

906 335 7600 ext. 7352
Balancing Act
Balancing Act
Janet Horne Cozens, 2021
Vinyl Mural 
The polar bear as a spirit animal is a symbol of strength and courage. It helps one to stand up to the challenges of the world and not be overwhelmed by them. The koi fish are also considered a symbol of perseverance and adversity in Eastern Culture as well as a sign of courage in Buddhism. This polar bear is balancing precariously on a ball over a pond of koi, representing the balancing act that we have all been struggling with during the pandemic.  But the bear and the fish are both symbols of courage and work together to see us through any difficult times that we might encounter in this year of extraordinary challenges.
As part of the Local Artist Program, the Burlington Public Art Program has commissioned local artists to create a variety of small to medium scale artworks throughout the community. The City has installed the designs of 12 local artists on traffic control signal boxes throughout the city. Artists were encouraged to submit artwork that focused on inspiring and uplifting the community during these challenging times. This artwork forms an urban art gallery that can be experienced by residents while still practicing appropriate social distancing.
For more information about the City of Burlington's Public Art program, visit Burlington.ca/publicart.
Business Information
Business Type: N/A
Request ownership of this listing