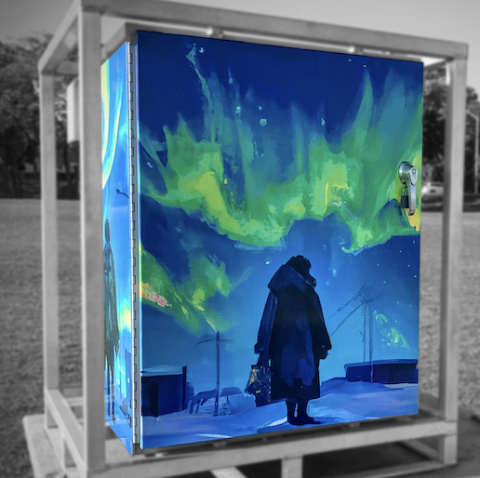 1400 Lakeshore Road
Burlington, Ontario
Canada
L7S 1Y2
(905) 335-7600 ext.7352
Bimose Agaming - Walking Along the Lake
Bimose Agaming - Walking Along the Lake
Indigenous Art Walk, 2022
The City of Burlington, in collaboration with Indigenous residents and local communities, has installed Bimose Agaming - Walking along the Lake, an art walk featuring the work of First Nations, Métis and Inuit artists. The name of the art walk is written in Anishinaabemowin, the traditional language of the treaty holders, the Mississaugas of the Credit First Nation. Throughout Spencer Smith Park, electrical boxes have been wrapped with the artwork of Indigenous artists from across Turtle Island. Each box includes a biography of the artist so you can learn more about their inspiration and artistic practice.
Visitors are encouraged to walk westwards to Lakeshore Road and Nelson Avenue, where an Orange Crosswalk has been installed to serve as a permanent reminder of Burlington's commitment to Truth and Reconciliation. From here, visitors may continue to the Joseph Brant Museum to explore the sculpture Conversations and Stories by David General, an Oneida/Mohawk artist and member of the Six Nations of the Grand River. 
Artists for the project include: David General - Six Nations of the Grand River, Bronson Jacque - Halifax, Candace Lipischak - Otterburne, Cody James Houle - Brantford, Douglas Fox - London, Jerri Ellis-MacDonald - Hamilton, Mark Nadjiwan - Lions Head, Marvin Terry - Oakville, and Moses Lunham - Forest.
To learn more visit burlington.ca/publicart or burlingtonpublicart.com/Indigenous
Business Information
Business Type: N/A
Request ownership of this listing