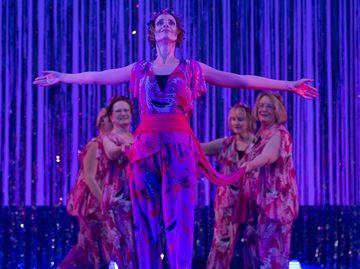 c/o 2131 Prospect St
(Student Theatre building)
Burlington, Ontario
Canada
L7R 1Z2
905 681 1517
Burlington Footnotes Senior Performing Troupe Inc.
The Burlington Footnotes is an enthusiastic troupe of senior dance performers who specialize in various styles: tap, jazz, ballet/lyrical, clogging, hip-hop, musical theatre as well as vocalists and musicians. Performers representing the 50+ generation are from Burlington, Ontario and neighbouring communities. Since inception in 2000, the organization has grown from 6 to more than 100 members. These swingin' enthusiastic older adults prove that it's great to be a senior.
We are dedicated to having fun, on and off stage, while being committed to providing a comfortable, professional and inspirational atmosphere for older adults to reach their creative potential. To achieve these goals we value and respect the different levels of ability, commitment and needs of our members. Performers from the senior troupe entertain at hospitals, seniors' residences, conventions and variety shows throughout the year. As Burlington's Golden Age Ambassadors they have performed twice in Itabashi, Japan.
"Celebrate the Art of Staying Young"
Business Information
Business Type: Not for Profit
Request ownership of this listing