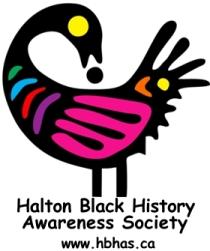 426 Brant Street
Burlington City Hall
Burlington, Ontario
Canada
L7R 3Z6
905 320 0991
Halton Black History Awareness Society
The HBHAS mission is learning, uncovering and promoting Canadian Black History towards a progressive inclusive future through art, music, theatre, literature, spoken word, educational/ historical and genealogical forums and community collaboration.
It the vision of the HBHAS to celebrate Halton's Diverse "Community, Roots & Culture" as a model to like organizations, educators, contributors and historians through Cultural Education, Cultural Enhancement and Cultural Entertainment.
Our motto is to appreciate our individual and collective "Community, Roots and Culture" - "Community" meaning the global and regional community, schools, business and association groups and family.  "Roots" reflect our history, genealogy, heritage, and multi-culturalism.  And "Culture" - Celebrating our individual and collective customs, music, art, and cuisine.
This Festival, in concert with all HBHAS events, engagements, activities and presentations, welcomes all cultures to participate in the joys of multiculturalism, inclusivity, and cultural diversity.
What you will gain from this collaboration is: Self Knowledge, Cultural Education & Appreciation, Relationship Development,the integration of skills and mind-sets, and Increased Self Esteem+As President Obama stated at the recent United Nations General Assembly, "At this moment, we all face a choice. We can choose to press forward with a better model of cooperation and integration, or we can retreat in a world sharply divided and ultimately in conflict."  It is our generations which must forage the best future for our ascendants.
The common denominator of all resolutions towards alleviating culture fear, intimidation, assault, crime, anger, ignorance and pain is through educating culture diversity.  Appreciating oneself is the foundation of future success. The earlier and consistency of education, the more positive and progressive character will develop.
We welcome one and all to join us on this journey towards an inclusive society.
Business Information
Artistic Category:
Historical
,
Literary
,
Multicultural
,
Music
,
Theatre/Performing Arts
,
Visual Art & Craft
,
Other
,
Multicultural Festivals
,
Music Festivals
,
Performing Arts Festivals
,
Other
Business Type: Not for Profit
Request ownership of this listing