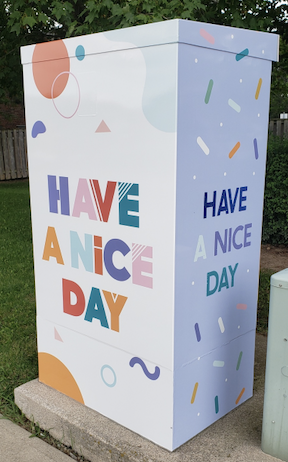 Walkers Line and Country Club Drive
Burlington, Ontario
Canada

906 335 7600 ext. 7352
Have a Nice Day
Have a Nice Day
Hannah Brown, 2021
Vinyl Mural
I decided to make my theme for this "Have a Nice Day" because years ago I would pass a bridge every day on my way to work, with some very amateur spray painted on it that said "Have a nice day", and honestly, it made me happy to pass that every day. Living in a world with a lot of hate, fear, negativity and stress, it's nice to find positivity in unexpected places. I want people to feel happy when they pass this, whether it's just once, or every day during their daily routines.
As part of the Local Artist Program, the Burlington Public Art Program has commissioned local artists to create a variety of small to medium scale artworks throughout the community. The City has installed the designs of 12 local artists on traffic control signal boxes throughout the city. Artists were encouraged to submit artwork that focused on inspiring and uplifting the community during these challenging times. This artwork forms an urban art gallery that can be experienced by residents while still practicing appropriate social distancing.
For more information about the City of Burlington's Public Art program, visit Burlington.ca/publicart.
Business Information
Business Type: N/A
Request ownership of this listing