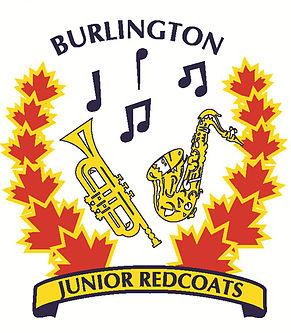 2311 New Street
Burlington, Ontario
Canada
L7R 1J4
905 335 7807
Burlington Junior Redcoats
The Junior Redcoats Band is open to boys and girls from ages 9 to 13, who can apply their skills as musicians to participate in all activities of a marching band. New members can join the band as they begin their music lessons.
Members of the Junior Redcoats must be currently taking Music Lessons with a qualified instructor. Youngsters are strongly encouraged to take advantage of the lessons offered through the instrument instruction program operated at the Music Centre. These lessons are offered by the City of Burlington Parks & Recreation Department. The program is the largest of its kind in Canada and provides basic training for hundreds of young musicians each year.
The Junior Redcoats perform several times a year in local events. Once a junior member reaches the age of 13 and their musical skills are acceptable, they become eligible to move up to the ranks of the Burlington Teen Tour Band.
Membership runs from September to June. Rehearsals are Saturday mornings from 9:15 - 11:30 at the Burlington Music Centre.
Business Information
Business Type: Not for Profit
Request ownership of this listing