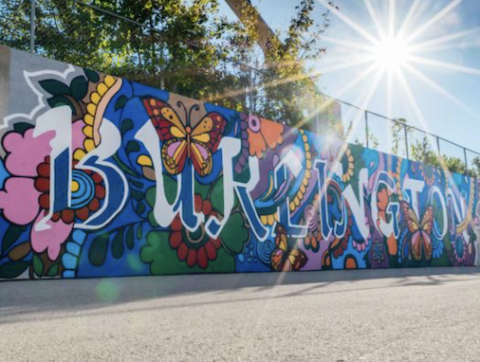 4325 Harvester Road
Burlington, Ontario
Canada
L7L 5M4
905 275 2669
Ode to Belonging
The project, Ode to Belonging, as executed by artist and local resident Poonam Sharma, was to design and produce a mural approximately 11' high by 55' long covering a section of a retaining wall adjacent to an under-used parking lot at 4325 Harvester Road, Burlington. The project was done in collaboration with Mural Routes and funded by Lamenza Corporation, a social purpose real estate company that works with local partners to create flourishing community destinations. The theme was imagining and building an equal, diverse and inclusive city.
The goal was to foster the integration of local culture and commerce for community development by giving residents a unique reason to come to Harvester Road, a commercial district in Burlington lacking in foot traffic with an awkward range of small businesses offering a limited functional mix that could stand to be diversified. The mural features a ground-level life-size butterfly in brilliant colour. Residents can engage with the mural, animating the area along Harvester Road and helping its small businesses flourish. 
This mural is a unique project in Burlington that used mural art as a creative placemaking initiative to engage in purposeful community building. It played a significant role in civic participation in Burlington when residents were converted into volunteers from being just mere spectators. It became a powerful tool to nurture and develop the community's youth by harnessing their energy and creativity into a constructive endeavor. It improved our social cohesion and increased our cultural understanding and our sense of belonging. It gave us an opportunity to actualize our cultural identity as a diverse and inclusive society. The mural reflects and reveals our shared values around diversity and inclusivity, and enhances the meaning of our privately-owned public space such as this underused single-use parking lot. It adds uniqueness to the commercial district along Harvester Road. It humanized the built environment. It provides an intersection between past, present, and future, and local culture and commerce.
Public art like this project matters to the residents of emerging cities like Burlington, residents such as the artist, Poonam Sharma, and all of those who participated in the process of creating it because our communities gain cultural capital and social value through it. This one-of-a-kind project in Burlington has started a conversation about art and its capacity to define the future of our city.
Business Information
Business Type: Commercial
Request ownership of this listing