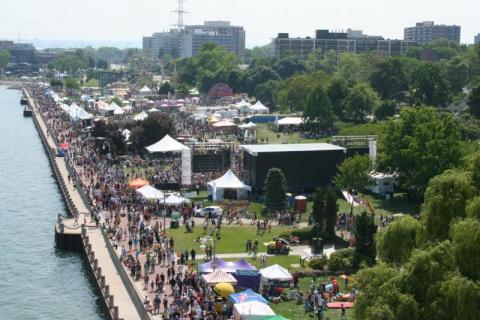 1400 Lakeshore Road
Burlington, Ontario
Canada

905 335 7600 x 7488
Spencer Smith Park
Located on the shore of Lake Ontario, Spencer Smith Park is home to the Sound of Music Festival as well as Canada's Largest Ribfest. The park houses Spencer's, a restaurant with a capacity of more than two hundred diners, that offers beautiful views of Lake Ontario and Lakeshore Road. The park boasts: Discovery Landing Waterfront Centre and Centennial Pond which features ice skating in the winter months, and is used as a model sailboat pond in the summer. The Dofasco Waterjet plaza offers both a water play area for children and a playground.
In recent years, Spencer Smith Park has been redeveloped with community input by the Waterfront Team to become the recreational centre of the Waterfront Trail. The wide promenade allows a magnificent view of the lake, beach and Skyway Bridge while sitting on the breakwall, walking, cycling or rollerblading. The park features several performance areas, historic monuments, a children's playground, Japanese gardens and expansive lawns for leisure activities.
The land for Spencer Smith park was originally part of a parcel granted to the Mohawk leader Joseph Brant, in recognition of his service to the British Crown during the American Revolution.
Business Information
Business Type: N/A
Request ownership of this listing