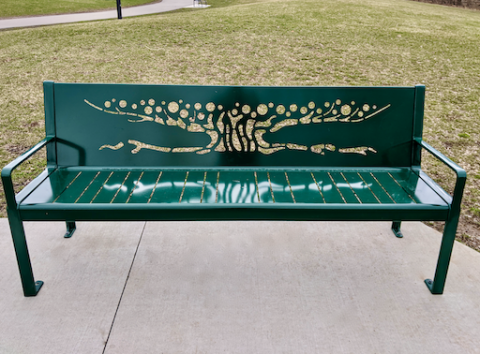 4100 Kilmer Drive
Burlington, Ontario
Canada

(905) 335-7600 ext. 7352
Tansley Woods Bench Series, Old Growth Trees (One)
Old Growth Trees (One)
Doug Gierula, 2019
Laser cut steel powder coated bench
The Tansley Woods Park public art benches represent our relationship with trees, celebrating and educating about old growth forests in the surrounding escarpment. Trees are essential for all life. They provide necessary food, shelter from the elements, remove excess carbon from the air and supply products. 
Too many trees have been removed to accommodate the massive construction boom. We need to plant more trees, replace the ones that have been ripped from the soil and save the ones that are still standing. Old growth forests cannot be replaced and are essential for our survival. This design celebrates old growth trees and illustrates their character in three distinct ways. The benches are in close proximity to the play structure and their design serves as an educational tool to start a conversation with young children about the importance of trees. 
For more information about the City of Burlington's public art program, visit Burlington.ca/publicart.
Business Information
Business Type: N/A
Request ownership of this listing