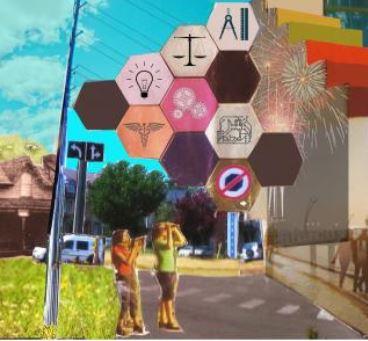 1996 Itabashi Way
Burlington, Ontario
Canada
L7M 4J8
(905) 335 7600 ext. 7352
Walking into Tansley
Walking into Tansley
Elena Espinoza, 2016
Digital photograph on panel
Inspired by the history of the original Tansley neighbourhood, Elena Espinoza has incorporated a variety of historical images of early Burlington life into her design. An image of a horse, a symbol of early transportation and farming aid; the image of wheat, one of the most important cultivated crops in the early 1800s; and an image of Joseph Tansley, the well-known postmaster after which the community of Tansley was named. These images are paired with modern images of life in Burlington to show the development of the community over time.
Taking inspiration from the architectural elements of the Tansley Woods Recreation Centre, a series of shapes and images inspired by the building can also be found in the mural. This reference to the building celebrates the important role the community centre plays in the lives of Burlington residents.
The Local Artist Program is designed to tell local stories using local artists. The 2016 program commissioned two medium-scale murals throughout the city. These commissions were open exclusively to Burlington artists. Free professional development opportunities were offered to assist artists with the application process and project development.
For more information about the City of Burlington's Public Art program, visit www.burlingtonpublicart.com
Business Information
Business Type: N/A
Request ownership of this listing